Rooms + suites
Things which cannot be taken for granted are basic furnishings for us.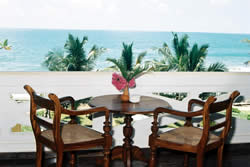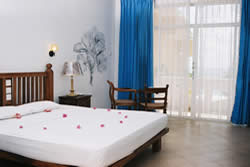 The rooms are arranged generously with 28 square metres. We provide you pleasant comfort with a double bed, TV, air conditioning, refrigerator, mini-bar and a modern bathroom. Every room has a balcony with a view to the ocean. You can enjoy wonderful sunsets every evening from it. It is also possible to put an extra bed in the room. If wished there are family rooms ( 2 rooms connected by a door) which can be reserved.
The spacious and stylish furnished rooms with their marble bathrooms stand out due to a nice and unique atmosphere.
Suites
In our suits, totalling 60 square metres on 2 floors, you find enough space to relax. These suits have as well a double bed, TV, air conditioning, refrigerator and a balcony with ocean view. In addition there is a 10 square metres big high sleeper with room for 4 people and a spacious bathroom with a corner bathtub.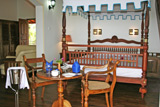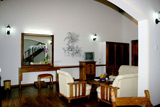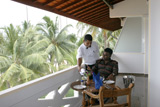 Every suite gets its personal charm by fine noble materials and shapes. Refined culture of living lay in harmony with ambience and service and leave no wish open.
Furnishing of the Bathroom
Marble bathroom, separate shower, WC, luxury wash-basin, hairdryer, shaving mirror and dressing table. In the suits you find also a corner bathtub.